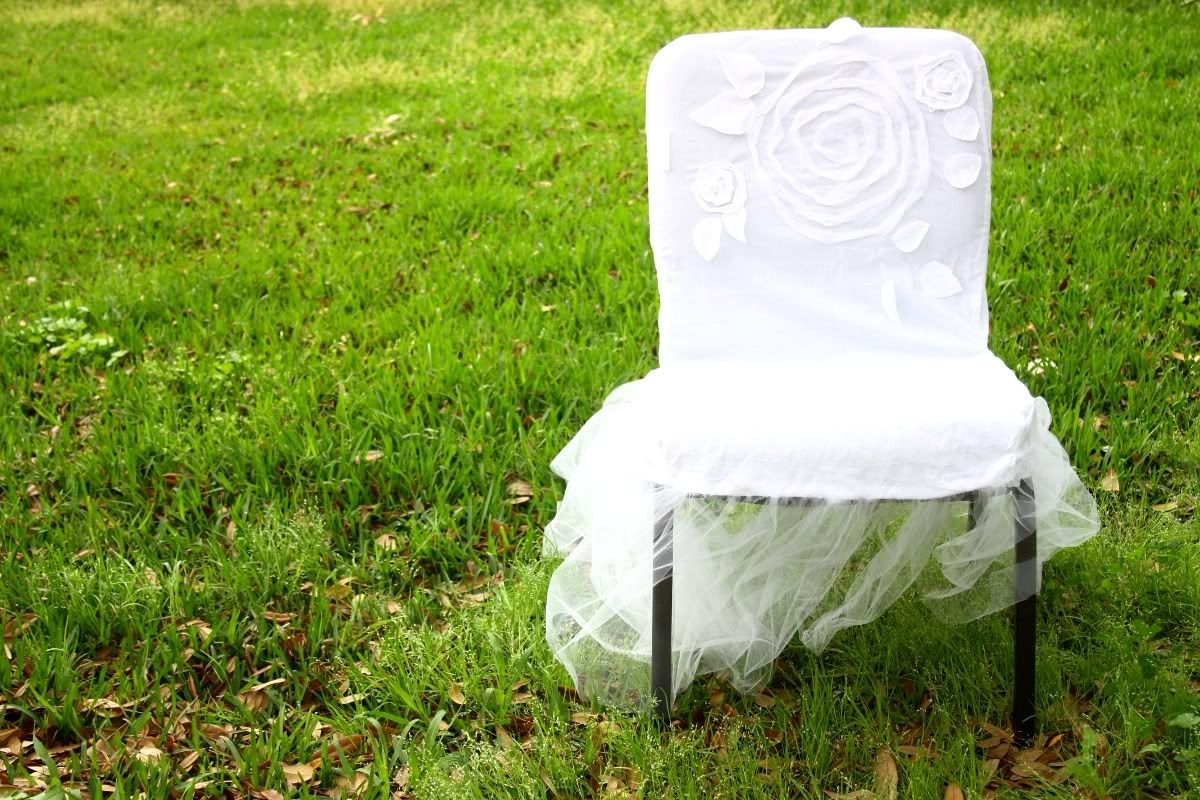 It was my moms idea actually. She wanted a special chair for the occasion so I created a Bridal Shower Chair slipcover.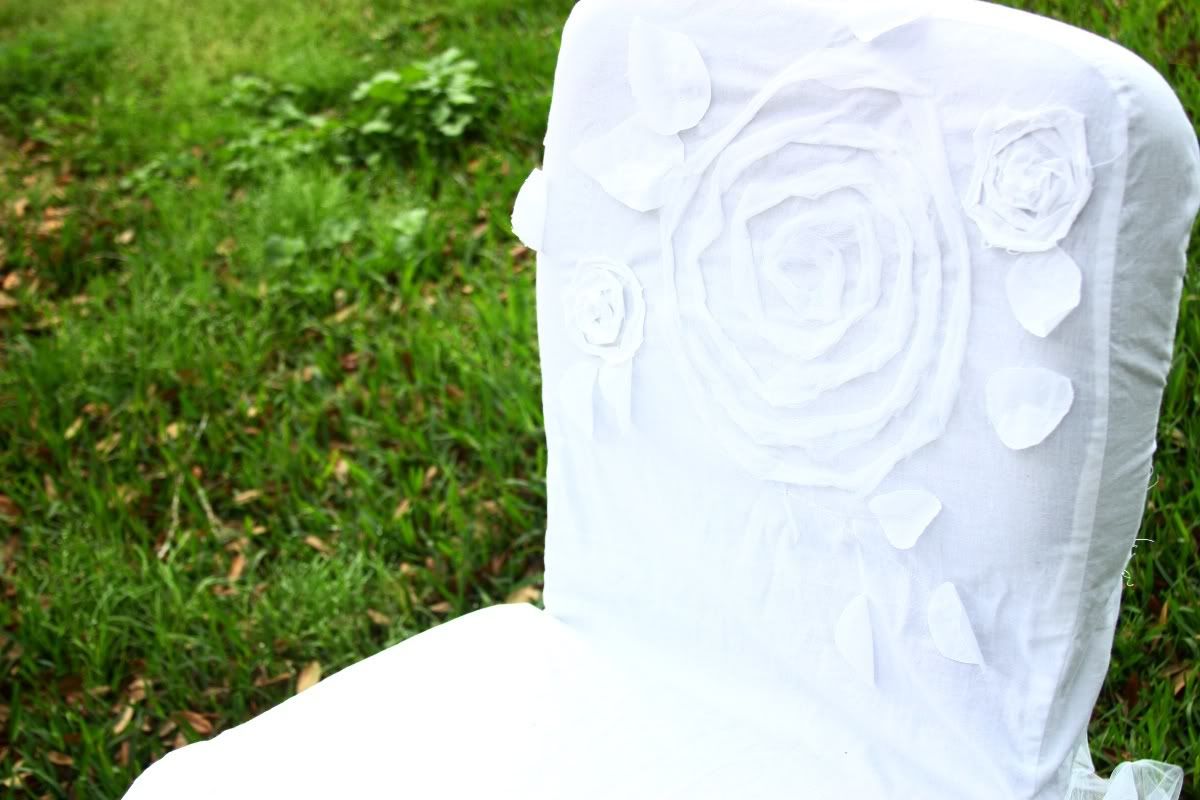 Complete with a floral back...
and a lovely bow!
You'll need
Approx 2 yards of white cotton fabric (I used 36" muslin because I need the length not width)
And at least 3 yards of tulle. I think it would be better with 6 yards so you could so 2 layers or use something thicker than tulle.
I did this with frugality in mind. The final price was only $5!
Here are my rough measurements.
I was only measuring the padded part of the chair. This is how I pieces my chair:
Starting at the top of the font all the way down to the edge of the bottom. Meaning the entire front piece of the chair was one big piece: 20"x41"
Back width and length: 20"x20"
Vertical Side-over the top-down the other side: 3"x56"
Horizontal side-back of chair-other size: 3"x56.
I added 2" for seam allows and measure large so I'd have plenty of wiggle room.
Cut out all your pieces. If your planning on doing a floral background I'd do so before you continue sewing. I wasn't planning on adding roses so I did it after I finished it over, it was much hard to sew that way! I used extra scraps I had for the bow and for the rose background.
Here I've laid out my main front piece and started pining it tot he top/side piece. Once it was Pined I sew it into place. Next I did added the back, and finally moved onto the back/side/bottom piece.
Once they were all sewed into place I cute my tulle into three piece, sewed them together and trimmed it. Added a gather stitch a, pined it into place and sewed it down.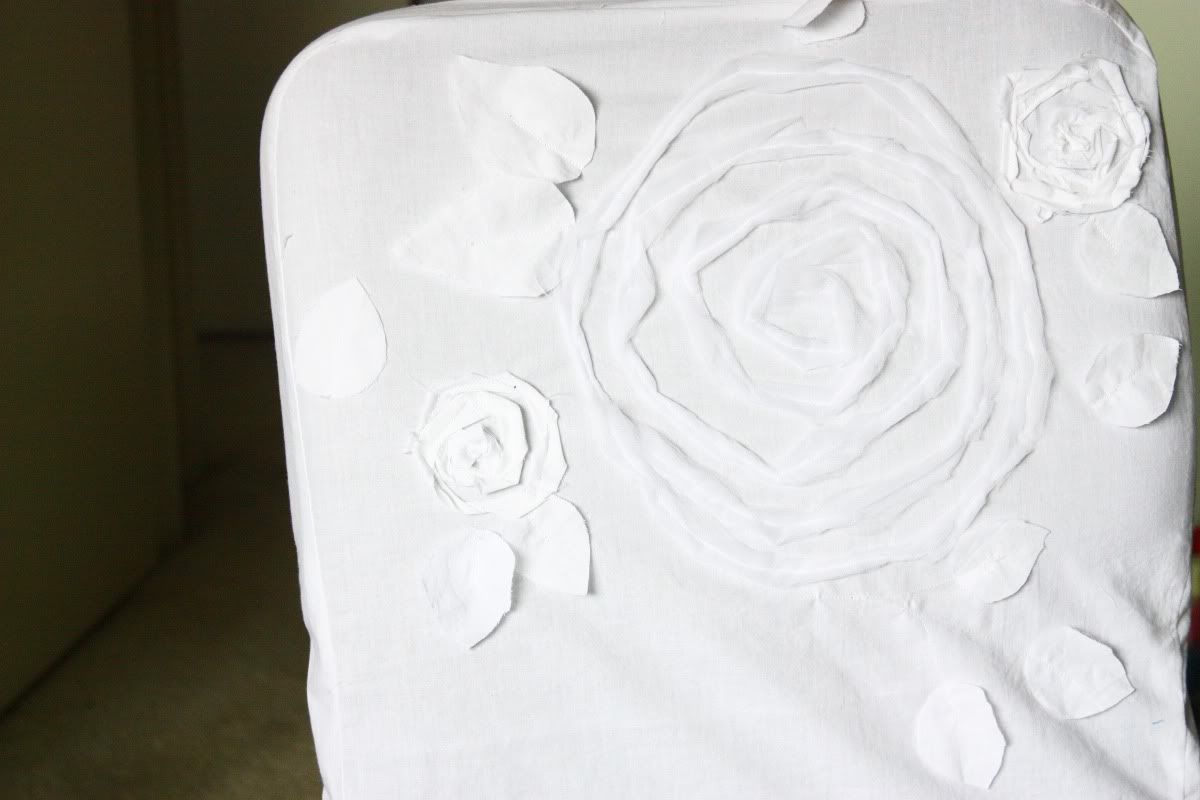 It was a rather easy and quick project! I think it took me, maybe, 2 hours.
As you can see it was windy outside.
Linking up with-
Tatertots and Jello
,
Flamingo Toes
, and
The Grant Life
.